Introduction
Hello, everyone! I'd like to start by saying thank you for coming to the Silent Walk Wiki. Things are still being set up and I hope other users will contribute to this WIki.
This Wiki was created as a database for all historical Silent Walk happenings. From the release of Silent Walk 1.1 to the hacking of the forums in May 2009, to the release of Silent Walk Renaissance, we can use this as a time machine to view all of the great (and not-so-great) things about Silent Walk.
Have fun, and ADD SOME ARTICLES!
-XTCGames
What's new
July 24th, 2009 - This wiki is created!
Try to find the Spam page. It's a page where you can write anything you want. Skit12345 has already found it.
Contribute to this wiki
To write a new article, just enter the article title in the box below.
Not sure where to start?
Featured Game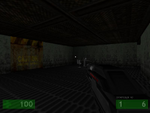 Zombie Nation (Part 2) is an upcoming game by XTC Games.
Featured Video
Use this section to show a featured image or videothumb|300px|left